Shane really doesn't drink that much.  Just saying.  Every now and then, sure, but not a whole lot.  So, on the evening prior to a day trip to the Missouri I was surprised to get a couple texts from him saying that he was rather intoxicated.  Something about a 50/50 mix of margarita mix and tequila…  The following morning, I received this text:
Perhaps not a good omen for a day spent in the car.
Since we hadn't been out fishing in a while, we decided to head somewhere new (new to me at least).  After a quick debate of the options, we decided on below Hauser Dam on the Missouri.  I've been regaled over the years with many stories of the huge fish in the stretch of river.  There is just something about the idea of hooking 26-28 inch rainbows that gets your heart going.
One of the things I was most excited about this trip was fishing some new water, and just getting out of town.  Back when Mark and SWMBO lived in town, we would go for long drives all the hell over the place almost every week.  But with them gone, work being busy, and an iffy car, I hadn't left the Bozeman area in about two solid months.  Road trips give you a chance to clear your head, relax, and enjoy some good company.  Throw some fishing in and you're set.
After picking up a slightly hungover Shane, we headed out with a couple cups of black coffee and breakfast sandwiches from the local coffee shop.  We very quickly did learn that his farts did indeed smell like tequila and roadkill.  Not a good combination.  The drive to Hauser was fairly uneventful, and we only got lost once on the way to the dam.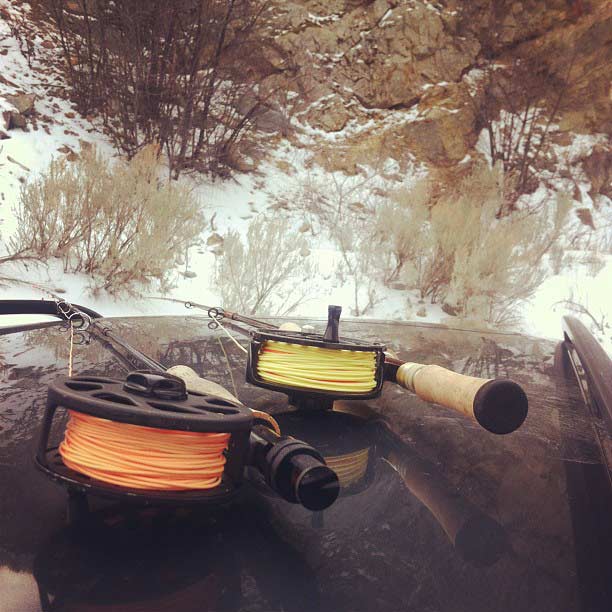 This trip I was packing something new: a 6-weight switch rod.  I bought it when I still worked for Orvis back in Austin, and had sadly only used it once up till now.  Spey casting is one of those things I know just enough about to really suck at.  Despite my lack of experience, after a frustrating hour or so with it I was able to at least get the nymph rig in the general vicinity of where I wanted it.
For those of you who haven't fished below Hauser, it is good looking stretch of water.  The dam towers over the head of the canyon and a deep, dark pool sits right beneath it.  You can just imagine some 30-inch fish hanging out in there.  We set up shop and fished hard for over four hours and the most exciting thing we saw was a mountain lion track in the snow.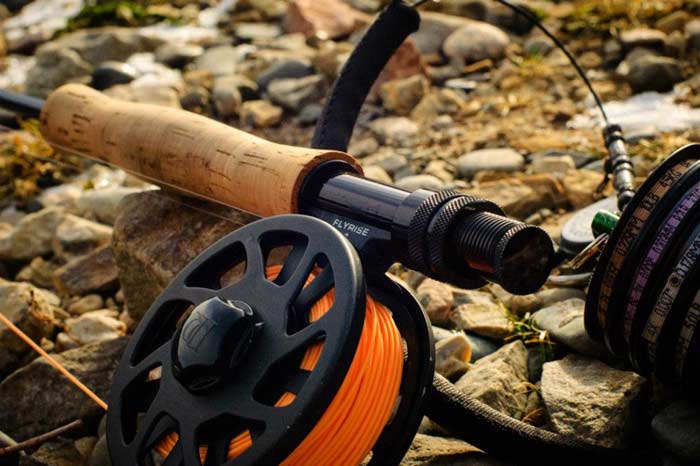 Apparently this piece of water is pretty popular with the chuck and duck crowd, as they began to filter in soon after we got there.  By the time about a dozen other folks had arrived we figured it would be a good time to eat and call it good.  Never has a dehydrated backpacking meal tasted so good as when it's made with Missouri River water.
It was now around 1 in the afternoon.  What the hell, we figured, let's go for a drive.  As previously stated, I hadn't been on a Sunday drive in a long damn time.  And hell we were half way to Craig anyway.  After a quick stop for a coke, Idaho Spud and Peachios, we hit the road.  That drive between Helena and Craig is a good one.  You're up in the mountains, you're following a little trout stream half the way, it's just got a good vibe.
Originally we planned to just swing by Headhunters and chat for a while then head home.  But after getting some good tips on runs and flies (and some kick ass huckleberry taffy from Sarah) they talked us into fishing a little longer.  We each bought some pink flies, and even got a free "bonus" fly.  Any shop where they give you taffy and a bonus fly is a pretty damn good one.
We went right where they sent us, and the fish were right where they said they'd be.  As is the norm for a Jake and Shane fishing trip only one of us caught fish, and this time that one of us happened to be me.  Three fish in probably an hour, two on the bonus fly, and one on a pink worm, the smallest one probably 17" going by my forearm.  The Mo grows 'em good.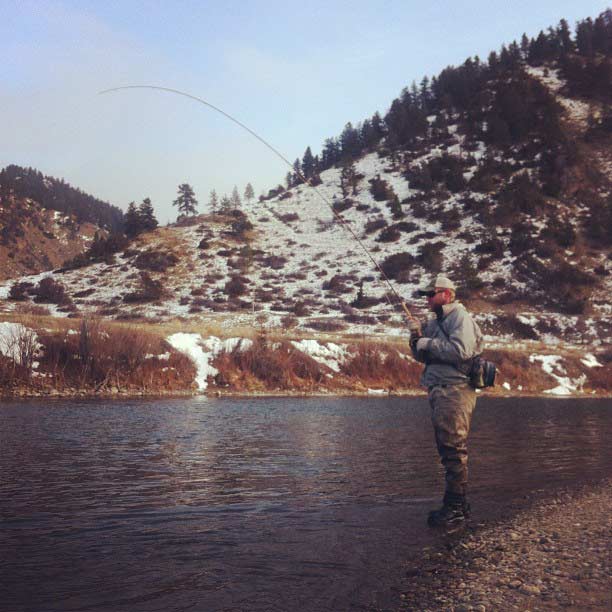 The sun eventually tucked down behind some clouds and thats when things got a little icy.  Reels froze up, lines got stiff, ice piled up in guides.  There was even about an 1/8 inch of solid ice from the tip down about a foot and a half on Shane's rod.  By the time we finally called it good neither one of us could strip or reel line from the frozen reels.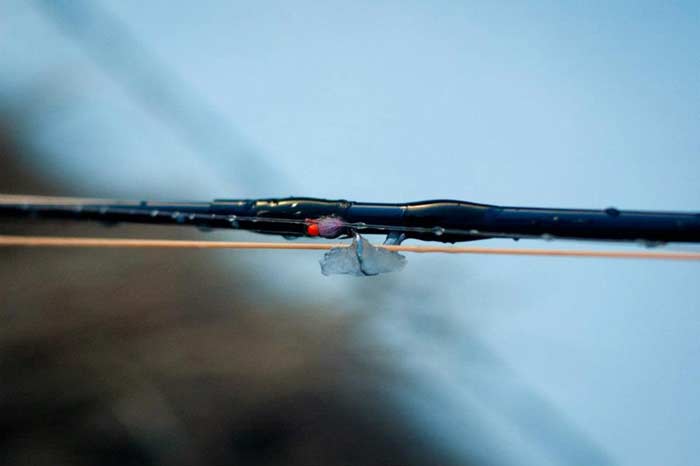 It was a good day.  Spent some time on new water, with a good friend, caught some good fish, and had a road trip.  Yep, doesn't get much better than that.
Photography by Shane Rickert