I started my formal writing career with conservation pieces for fly fishing magazines, and somehow now that I'm in a newspaper job I keep coming back to the same thing. Forget the town meetings… I want to cover fisheries.
Luckily I've landed myself in a prime spot for it.
I had the chance several days ago to speak with Carlin Girard, a Masters student at the University of Wyoming. Carlin works with the fisheries departments of the Wyoming Coop unit and is spending several years of his life studying the effects of energy production on fish and fisheries.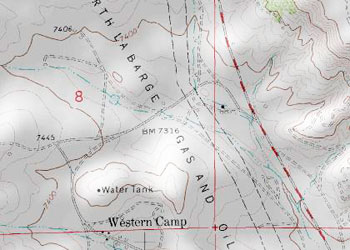 With a background with the Wyoming Game and Fish Department team in the Jackson region, Carlin has a passion for northwestern Wyoming and is focusing his work on the Wyoming Range – ground zero for natural gas and oil development.
The main area of field study for Girard has been southwest of Big Piney in the La Barge oil field. He is also focusing on the Noble Basin and the Plains Exploration and Production Company (PXP) buyout areas; spots that he notes are "high profile" and tend to draw considerable attention.
"Noble Basin is home to incredibly unique ecosystems," he said.
"This whole research project came about as the result of people involved in the oil and gas industries telling me there was not much research into the effects of oil and gas on fish," Girard said. He spent time looking into how energy development has affected area fisheries and was shocked at the lack of data.
And so a project was born.
He is focusing on smaller, headwater streams and a small selection of native fish – including the cutthroat trout, the mountain sucker and mottled sculpin. The hypothesis is that the impacts on a smaller stream will only be multiplied on larger bodies of water.
"The best approach is to take specific waters and specific fish species. In larger waters there are many more species and it's harder to localize the effects," he said. He is also curious to see if the impacts vary by species; if some are hardier than others.
Carlin just finished his first year of fieldwork and has about another year and a half until completion of the study. He is spending long hours looking at stream habitat and how it is influenced by the physical disturbances inherent in energy development. Comparison points include sedimentation rates, fish assemblages, riparian condition and both water quality and quantity.
"We do have data that's showing cool things; great data with facts," Girard finished, exuding enthusiasm about the study. "I hope we can provide high-resolution results."
Most anglers are pretty even-keeled and realize the need for alternative energy development. I think most would agree, however, that if that development comes at the cost of our fisheries it's not worth it. There are ways to mitigate the impact of energy development on our rivers; and studies like Carlin's are helping to show how best to preserve fisheries while allowing energy development.
Quote of the day from a Pinedale resident when I asked him about the concept as we stood in line at the grocery store / gun store / clothing store / gift shop / Ace hardware last night?
"Leave my fish alone."