Everyone had one growing up.  Hell, more of us than we'd like to admit still have one hidden away somewhere, tucked out of sight.  It's something that helped shape who we are today.
No, I'm not talking about a teddy beer, a security blanket, or your first crush.  I'm talking about a cheap, Plano tackle box.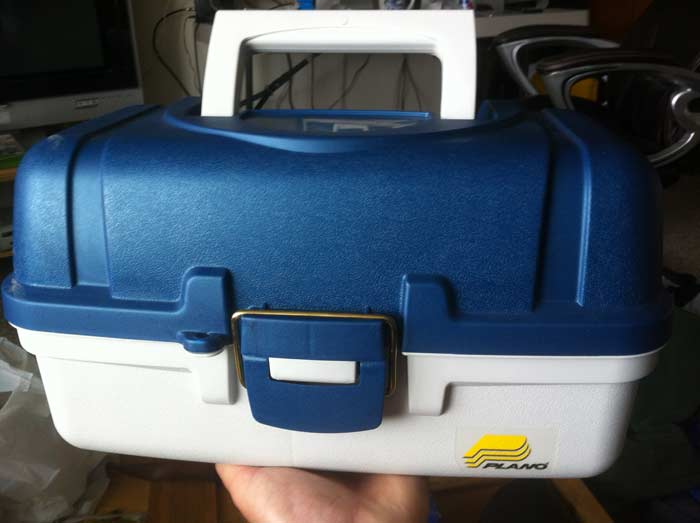 You remember those?  The ones with the flip open lid and expandable trays?  When I was just a yonker I loved my tackle box.  My room might have been a damn disaster (looking around me now, some things never change) but that tackle box was always neat and organized.
I can still picture it now, full of packages of Eagle Claw snelled bait hooks, Daredevil spoons (red and white, and brass with red dots) and a couple of Mepps.  Red and white plastic bobbers went down in the bottom, and swivels were up top.  There was also some kind of little fish shaped spoon that I think I lost on the river in the campground outside of Vernal, Utah one time.
Take a moment, and think back.  Almost every single one of you reading this had or still has that tackle box.  It varied a bit by region, some were more comprehensive than others, but they all served the same purpose.  With those tackle boxes in hand, we became fishermen.  We learned to appreciate time on the water more than anything else, and the knowledge that a fishing trip with your dad or your grandpa is a precious thing.
And like The Dude from the Big Lebowski, the tackle box abides.
Since my return to Bozeman and subsequent job in the fishing department of an outdoor store, I've had to learn a lot about gear fishing.  As much as I wanted to work in a dedicated fly shop, I couldn't make it work financially.  Disappointing as that was, and as initially disgusted by the very thought of having to stoop so low as to sell soft plastics and worm harnesses as I was, after a couple of weeks it wasn't so bad.
So I bought a couple of cheap, broken rods in the store auction and fixed them up.  A cheap reel, some cheap lures, and I was in business.  For a while, I was all sneaky about it, afraid that the word might get out that I owned a spinning rod.
But then I realized: hey, this is pretty cool stuff.  It's not fly fishing, and I couldn't throw gear in a moving body of water, but for lakes, hell yeah.  I also realized that its pretty dang fun to learn something new.
So last night after work, I bought a cheap, blue and tan Plano tackle box.  When I got home and opened it up to organize my stuff, it was just like I was a little kid again.
Funny how the little things can take you back.