Perusing fly fishing sites these days it seems you hardly have time to sip through your first cup of coffee before running across mention of threats to native fish and their fisheries.
As counterintuitive as it might seem at first glance, we think that's a good thing.
No question, reading another angst inducing story about native fish populations teetering on the brink might well be one of the last things we'd all like to do. Hell, most of us are fishing to get the stink and stress of everyday life out of mind, if only for a few hours or days at a time.
That said and duly noted, we'll take the side of the argument that says there are a number of fisheries out there that are facing 'bottom of the ninth inning' pressures. Pressures that can't be ignored.
Some of these 'bottom of the ninth inning' pressures seem to foster a slew of bad decision making in terms of fisheries management.
Here's an example of one such scenario happening right now – on the Klickitat.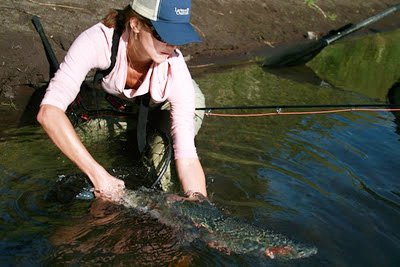 Friend of the Chi John Arnold (aka scumliner at Headhunters in Craig) posted yesterday about the Klickitat in southwestern Washington after hearing from a buddy of his, Tom Larimer, who fishes and guides on the river. (Photo credit to Tom's blog as well.)
The Klickitat River in southern Washington is among the crowned jewels of the Pacific Northwest. Long revered for its large native steelhead and spring Chinook, the river has some of the most intact habitat for fish and wildlife in the Middle Columbia Region.

Unfortunately, decades of hatchery released non-native Coho, Skamania steelhead and fall Chinook threaten the survival of Klickitat native salmon and steelhead. Since 1999, native Klickitat winter and summer steelhead have been listed as threatened under the Endangered Species Act. Similarly, the native run of wild spring Chinook which once numbered in the thousands has a thirty year average of 300 fish.

Potential expansion of hatchery operations in the Klickitat basin, detailed in the July of 2011 Draft Environmental Impact Statement (DEIS) released by Bonneville Power Administration (BPA) and the Yakima Klickitat Fisheries Project (YKFP) will further imperil the river's wild native salmon and steelhead.

The actions within the DEIS do not rely upon the best available science to recover wild native fish, jeopardizing wild runs by continuing most releases of non-native hatchery fish at or above their current numbers.
Sadly Tom's post details yet again what at first glance might seem to be well intended efforts that fall far short of restoring native species.
Ignoring (or suppressing) the best available data to make a suboptimal management decision rarely leads to good outcomes, much less sustainable outcomes.
Follow the links in Tom's post to add your two cents to the debate. It will very likely make a difference here.
Turning to one of our favorite native fish, last Wednesday the Bozeman Daily Chronicle posted a piece by Carly Flandro (originally written for the Montana Quarterly) about Yellowstone cutthroat – The Battle for Yellowstone Lake.
It's a very reasonable summary of the battle being waged on the lake with a bit of pertinent history thrown in, though we'd venture Carly's probably not a fisher.
Her research is up to date enough to include a discussion of the 'Judas fish' being used to scope out the laker's breeding grounds and she even dips a toe into the controversy of dumping the euthanized lakers back into the lake. Worth a read.